1945-1996
This page is dedicated to one of my dearest friends, my father
Rich Hilker
---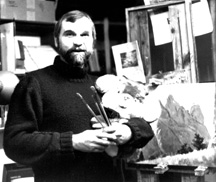 A strong person with a gentle soul, his tendency to play brought so many to him. He always claimed to be a hermit, yet he had more friends than anyone I know. He also made it known that he had no patience, but he always had time to teach people to fly. He was an artist and had an extraordinary grasp of color and light. His visions reached many people, and glad I was to have spent two years flying beside him.
I want to thank him for supporting me unconditionally through every crazy scheme and outlandish idea. And even though I cannot see him as clearly as I could before I know he still flies with me when I need him the most, a great eagle white as the brightest star.
This is one of my favorite oil paintings of his.
Unfortunately he didn't make it a habit to name his works unless someone asked him to.
---
Poems
He had so many unique ways of expressing himself, as I was looking through some of his things, I came across some of his poetry.

Springtime

Flowers, I think, are nature's smile,

Full with joy and fragrance and gentle mirth,

For the joke we share that's without guile,

Of life and death and then rebirth.

Copyright 1998 by Laura Hilker

An Artist's Prayer

And now I go my bed to dwell

I pray the Lord my paintings sell

And when they sell to my delight

Please IRS stay out of sight!

Copyright 1998 by Laura Hilker

Spectacualar

but quiet

red over green

the voice

is loved,

and soft

sweet. And peace

is found

and sought.

To touch

and miss,

both at once

and after.

The question,

as always,

is;

and won't

be answered.

Copyright 1998 by Laura Hilker
---