Agnes Martin was born in Maklin, Saskatchewan, Canada, in 1912. After spending her youth in Vancouver, she moved to the United States in 1931 and became a US citizen in 1950. In 1954 she moved to Taos, New Mexico. Returning to New York in 1957, she has held her first solo exhibition in 1958 at the Betty Parsons Gallery. In 1967 she moved back to New Mexico and abandoned painting for seven years. In 1975 she began her association with the Pace Gallery in New York. In 1991 the Stedelijk Museum in Amsterdam held an exhibition of her paintings and drawings which travelled on to various other European museums. In 1992 the Whitney Museum of American Art held a grand retrospective of her work. She lives and works in Galisteo, New Mexico.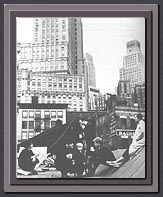 Agnes Martin (at right, on the rooftop of the
Coenties Slip building where she lived in New York.
Jack youngerman (sitting), Ellsworth Kelly (standing), Robert Indiana (kneeling), Delphine Seyrig, 1957.
Photograph by Hans Namuth.
CHRONOLOGICAL BIOGRAPHY

1912 - Born March 22 in Maklin, Saskatchewan, Canada.
1931 - Moves to the United States.
1934-37 - Studies at Western Washington College of Education, Bellingham.
1941-42 - Attends Teachers College, Columbia University, New York. Receives B.S., 1942.
1946-48 - Enrolls at the University of New Mexico, Albuquerque where she also teaches art from 1947-48.
1950 Becomes a United States citizen.
1952 - Receives M. A. from Teachers College, Columbia University, New York.
1954-57 - Lives in Taos, New Mexico.
1957 Moves to New York; lives on Coenties Slip in Lower Manhattan.
1958 - First solo exhibition at Betty Parsons Gallery, New York.
1967-68 Abandons painting until 1974. Moves to New Mexico.
1976 Produces film Gabriel.
1989 - Inducted as a member of the American Academy and Institute of Arts and Letters, New York.
1991 - Retrospective exhibition organized by the Stedelijk Museum, Amsterdam; travels throughout Europe. Receives the Alexej von Jawlensky Prize from the city of Wiesbaden, Germany.
1992 - Receives Oskar Kokoschka Prize from Austrian government.
1992-94 - Major retrospective organized by the Whitney Museum of American Art, New York; travels.